Great Kennels of the Past: Waseeka
Mrs. Elizabeth Loring Powers
By ARTHUR FREDERICK JONES
Reprinted with the permission of PURE·BRED DOGS/AMERICAN KENNEL GAZETTE, November 1, 1939, by Arthur Frederick Jones.

To accomplish an outstanding achievement, one must aim at an objective higher than any existing mark. It is not enough to prepare to surpass one's usual opponents. While concentrating on known adversaries, one may often find himself faced by far superior forces.
Too often we all are misled by our contemporary opposition. It may seem of high quality, but that may be only because we never have been faced by better; because we are unable to prepare to meet a pure ideal. This is particularly true in the breeding of pure-bred dogs. Unless we aim to equal the standard-to shoot at par-we are severely handicapped. I thought of this when, recently, I visited the Waseeka Kennels, on the estate of Mr. and Mrs. Davieson D. Power in Holliston, Massachusetts. Waseeka never has been handicapped. It always has aimed for the best, even when it might have triumphed with dogs that were far below the ideal.
Waseeka probably is the world's greatest kennels of Newfoundlands; and it is rapidly gaining recognition as one of the foremost of Pembroke Welsh corgi breeding plants. Its position in Newfoundlands has been secure for a long time. Indeed, its success was well established at the time I wrote a previous kennelogue of the establishment. When that appeared, in the March, 1932 issue of the GAZETTE, Mrs. Power was Miss Elizabeth B. Loring. She had become acquainted with the Newfoundland through a house pet named Chieftain's Brucie, and had started her kennels upon his death in 1927. Those five years before my first visit to Waseeka had sent its young owner far on the road to success; and the promise of greatness which I then noted has come true. It has bred a long succession of worthwhile Newfoundlands; dogs that have taken their place with the best of all other breeds.
Few kennels in any breed can point to the record achieved at Waseeka. In the twelve years of this kennels' existence, it has made and bred no less than 30 champions. Ten of these titleholders were imported specimens, brought to Waseeka as part of the long-range breeding plan to improve the world's quality of Newfoundlands. Witness to the success of this breeding program is the fact that 20 champions have been bred from Waseeka stock.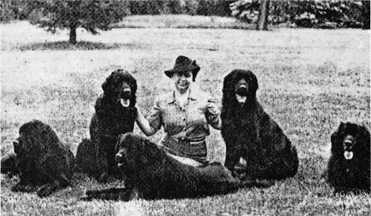 There is another angle of the Waseeka success that deserves more than a little attention. This is the promotional work which Mrs. Power has been doing to spread the cult of the Newfoundland. As secretary of the Newfoundland Club of America, a large share of her effort is spent in interesting new, worthwhile fanciers in the big breed. Her work has been unselfish.
She not only has tried to broadcast the colorful story of the Newfoundland so that dog-minded people would take an interest in the breed, but she also has carried her effort through to a more practical extent by seeing that newcomers have started off with stock of a quality high enough to insure success.
Probably there is nothing that makes Mrs. Power happier than to be beaten by new fanciers with dogs in whose breeding she has had a hand. This has not happened too many times, for Waseeka's basic methods of breeding and showing are too well-founded to be quickly imitated. But it has occurred. Again comparing Waseeka to kennels in other breeds, there are not many which can show that nearly half of the champions of their own breeding have been finished by other owners. But that is the fact with Waseeka, for of its 20 homebreds, nine now represent other kennels.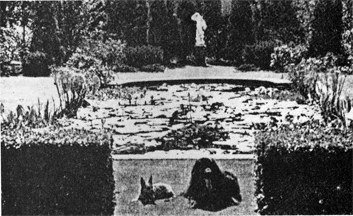 Mrs. Power always is glad to find worthy opposition at any show. First, it pleases her in her official capacity as secretary of the specialty club; and she welcomes it, secondly, because it makes exhibiting a much more sporting proposition. There have been occasions when Waseeka dogs had to fight it out among themselves for top honors. Still, Mrs. Power was not discouraged. At every show she attended, she benched a large and a high class entry. She wanted the public to see as many excellent Newfoundlands as possible.
Today, the breed is in the hands of a greater number of people who breed and show dogs. Indeed, the statistics of The American Kennel Club prove that it falls into that desirable category, "a fanciers' breed." This means that the vast majority of those who own Newfoundlands exhibit them.
In 1938, there were 179 Newfoundland registrations in the AKC Stud Book, and there were 245 dogs benched at the shows. Waseeka's share of the entries was about 100, for it usually exhibits at some 16 shows and benches half a dozen at each.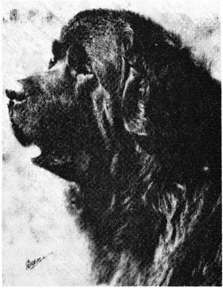 Because of their great size-Newfoundlands range from 25 to 31 inches high at the shoulder and weigh from 100 to 150 pounds-these dogs will always be "fanciers' dogs." This is a desirable category from the standpoint of those who are interested in the purebred because it means that quality will not be sacrificed for numbers. When the majority of the specimens of any breed fall into the hands of non·fanciers, it means that, subsequently, there will be deterioration in the general quality of the breed.
There were some 35 Newfoundlands at the Waseeka Kennels at the time of my recent visit, but some were scheduled to leave, shortly, for new homes throughout the country. Mrs. Power tries to keep the number down, but it is sometimes difficult. About half a dozen litters of Newfoundlands are whelped every year. A litter may be anything from two to 14 puppies, although those extremes are not the usual thing. The "perfect" litter consists of six puppies, and if we take this figure, Waseeka has 36 newcomers every year
From this number must be chosen six or eight that will remain at the establishment to carryon the breeding and exhibiting traditions. The rest must be placed in other kennels or in suitable homes. Mrs. Power will not send a Newfoundland to a city home. A country home is preferable, but the suburbs will give the big breed some of the freedom it needs.
A portion of the success of the Waseeka Kennels may be attributed to its ideal location in undeveloped country, or, to be more exact, in a section of large estates. Still, it is not far from the busy community of Framingham. The actual kennel buildings are in the same location on the Loring estate, in Ashland, that they were when I visited Waseeka before. It seemed ridiculous to move them, since the Power property, although in Holliston, is adjoining. By road, the two places are about a mile apart.
Bridle paths wind through the woods on the Loring, Power, and other estates so that it is possible to ride or walk for some 20 miles without crossing a highway. Thus, the Waseeka Newfoundlands can be given an abundance of safe exercising. Early every morning, most of the grown Newfoundlands are taken for a walk of five miles.
It is quite a sight to see some 20 of the big fellows, unleashed, moving through the woods. They enjoy themselves thoroughly. Some romp and play like terriers. But this morning sortie does not end their exercise. In the afternoon, George Cann, superintendent of the Loring estate, and Kenneth Sanders, kennel manager of Waseeka, take small groups, on leash, for walks of two to three miles. Walking on leash has been found to be most beneficial in keeping the dogs in sound shape.
The only change in this routine comes when the ground is covered with a thin, icy crust through which the big dogs may break, cutting their feet. In heavy snow, of course, they are untroubled. But at all times when they are unable to walk outside, they get their main exercise in a big, indoor riding hall. This is some 80 x 160 feet in size, and is situated on the Loring estate.
The dog quarters at Waseeka have increased considerably since my previous visit. At that time, there was one large main kennel, built of stone, and a smaller, wooden, isolation structure. At present, there are four kennel buildings in use: the original stone building; a big, cinder block building; the old isolation kennels, now used for the corgis; and a new isolation kennel.
The building made of cinder blocks is now used for most of the grown Newfoundlands. It is located at the edge of the woods so that in the heat of summer the trees afford cool shade for the big, heavily-coated dogs. In many respects, it is similar to the stone building. It is about 75 feet long by 16 feet wide, and contains nine pens, each 7 x 10 feet, and a work room 12 x 6 feet. The work room in this newer building is at one end; whereas, in the stone structure it is in the center. The change was made so that it would not be necessary for the dogs to be taken through this room when shifted from pen to pen or when taken out for walks.
Unlike the stone building, the cinder block kennel is unheated. It was discovered that the Newfoundland thrives better without any artificial heat. His coat grows heavier and of a better texture. So the only heat in this building is in the work room. It is supplied by a large coal range which also serves for cooking.
An innovation is found in the flooring of this building. It is a mastic substance manufactured by the Johns Manville Corporation. Applied when hot, it hardens quickly, and presents a smooth surface that is easy to keep clean. It has all the virtues of concrete, and none of the latter's disadvantages. The dogs may lie on it safely, for it does not get as cold as concrete. Also, there is a slight springiness apparent when one walks on it.
The stone building at Waseeka, originally, had cork block flooring, but this was found impractical due to the many crevices between the blocks. But the mastic flooring has worked out very well. It is laid one inch thick. The edges are turned up, about four inches, so that there are no seams to catch and hold micro-organisms. The pens are scrubbed and hosed every day.
Pen partitions are all of sheet metal, painted a light grey. Metal has to be used because in no time the heavy claws of the Newfoundlands would rip wooden partitions to pieces. These partitions are nearly five feet high. Each pen is supplied with a water faucet. This is a double aid. First, for the large amount of fresh drinking water needed with a big breed; and then, also, for cleaning purposes. Each pen has direct access to the big, tree-shaded runs.
The stone kennel building, which was described rather completely in my previous article on Waseeka, also is 75 x 16 feet in size. This building is heated by an oil-burning, hot-water unit, whose radiators are hung from the ceilings. Being heated, this building is now used principally for brood matrons with litters, and for the younger element. This applies to both Newfoundlands and Pembroke Welsh corgis. The work room is in the center of this building, and the kennel office is at one end. There are eight, big 8 x 12 pens. The partitions are of metal. Each pen has access to an individual run. Heavy Anchor Post fencing is used to enclose the runs of all the kennel buildings.
As might be imagined, the feeding of a large number of dogs-and especially where more than half of them are Newfoundlands-can be quite a problem unless it is worked out carefully. Mrs. Power solved this matter for Newfoundlands long ago but it would be unnatural if she did not find improvements that could be made from time to time.
Raw meat, in chunks, is still the foundation, but for variety it is sometimes cooked into a kennel stew. But the type of meat has been changed from beef to horse meat. Waseeka purchases it, frozen, from the Hill Packing Company. It proves absolutely satisfactory. In fact, there seems to be no difference between it and beef.
Also, Waseeka has had very satisfactory results with a prepared dog food called Jackson's Dog Ration, which is made by the Cutler Grain Company. The principal ingredients are bone meal, dried beef, wheat germ oil, and bread crumbs. Abbott's Vita-King is used with the young stock.
The Welsh corgis get much the same diet as the Newfoundlands, but the meat is chopped, and the amount fed is less.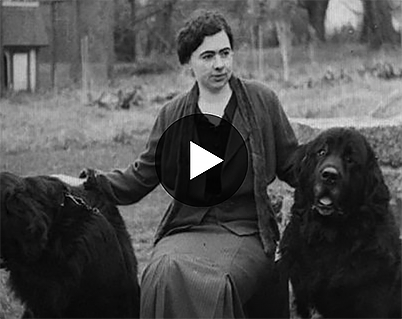 Waseeka Newfoundlands are healthy, sound specimens, and they show an abundance of vitality. These are all qualities too often lacking in the larger breeds of dog; but, somehow, after seeing the way Waseeka dogs are exercised, fed, and groomed their condition comes as no surprise. Another thing which makes an immediate impression at Waseeka is the uniformly high quality of all its dogs, both Newfoundlands and Pembroke Welsh corgis. This indicates that Mrs. Power knows her dogs, and has uncanny skill in mating them so that the slightest faults will be constantly minimized in succeeding generations. Naturally, there are some specimens that stand out above the others, but there is not such a big gap between these leaders and the rest of the dogs.
But it is unnecessary to take any one opinion on the uniform quality of the Waseeka dogs. Over the course of the years the records bear this out. Since 1929, Waseeka Newfoundlands have taken best of breed more than 170 times at the leading shows-and it seldom exhibits less than 16 or more than 20 times in anyone year.
The record at two great shows is interesting. It has taken best of breed ten consecutive times at the Eastern Dog Club's event in Boston; and for nine straight years at the Westminster Kennel Club's exhibition in New York. During that course of years, Waseeka has exhibited many different specimens, come before many different judges, and met a variety of opposition. Still it has gone ahead.
At Westminster in 1931, Waseeka captured best brace and best team of Newfoundlands, and the team went on to take best in the working group. Every year since that first New York show, Waseeka has carried off the brace and team honors in Newfoundlands. In 1933, when Mrs. M. Hartley Dodge was the judge, Ch. Seafarer and Ch. Waseeka' s Sea King captured the award of best brace of all breeds in show.
The following year, the kennels won both the best working brace and the best working team prizes. In 1939, Ch. Waseeka's Sea Drift, Waseeka's Lord Nelson, Waseeka's Smuggler, and Waseeka's Lifeguard carried off the honor of best working team.
A summary of the leading awards taken by the Waseeka Newfoundlands gives Ch. Seafarer 36 times best of breed in the United States and Canada; 16 times best in the working group; and three times best of all breeds. Ch. Waseeka's Sea King went best of breed 42 times; best in group 13 times; and best in show once. Ch. Waseeka's Sailor Boy won six groups; and one best in show. Ch. Waseeka's Wayfarer took two groups. And one group each fell to Ch. Waseeka's Pete the Pirate, Ch. Barnacle Bill of Waseeka, and Ch. Master Jumbo. Best team in show fell to Waseeka at Toronto in 1935, and at Boston in 1937 and 1939.
Waseeka's Lord Nelson is a promising young son of Ch. Waseeka's Sea King ex. Ch. Waseeka's Sea Maid that should not be long in finishing his title and moving into the limelight. He had nine points at the time of my visit. Another male of real possibilities is the even younger Waseeka's Smuggler, by the late Ch. Waseeka's Sailor Boy, which died during the hurricane in September of 1938, out of the imported Ch. Bulwell Aero Flame.
Of the bitches, Waseeka's Sea Song, a younger full sister of Lord Nelson, had nine points at the time of my visit. She is very handsome, and should go far. And then there is another eye-filler, Waseeka's Sea Shell, a daughter of Waseeka's Sea Scout out of Waterwitch of Drumnod, a Canadian-bred bitch that has proved the greatest brood matron in the history of Waseeka, whelping no fewer than eight champion sons and daughters.
The only litter on hand was one by Ch. Waseeka's Sea King ex Ch. Waseeka's Sea Maid. It consisted of two males and two females, then two months old, that seemed to have a wealth of quality.
Waseeka's contributions to the world's stock of quality Newfoundlands have been celebrated far and wide; and its assistance to the Pembroke Welsh corgi breed is now well recognized. Within a very short time this establishment should have built a line of Pembrokes that is known throughout the world, for Waseeka is a kennel that can achieve worthwhile results. It is a real asset to the American pure-bred dog fancy.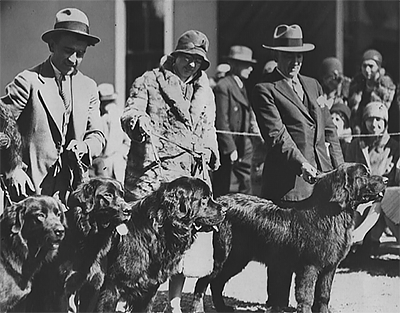 A brief history of Waseeka Farms by Mrs. Powers granddaughter, Elizabeth
Download the 1932 AKC Gazette Article on Waseeka