Oquaga: The End of an Era
Reprinted from NewfTide 1976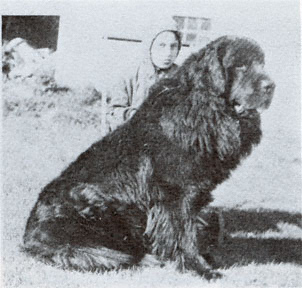 After 39 years Oquaga Kennels, one of the the oldest Newfoundland kennels in the USA, has closed its doors.
Yet the influence of the many Oquaga-bred Newfs will live on for generations to come. One needs only look at present day pedigrees to know the contribution Oquaga Kennels has made.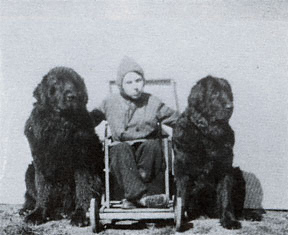 Theodora and Clifford Hartz have lived in Windsor, New York all their lives. Their kennel name, Oquaga, which comes from the name of a nearby lake, is an Indian word meaning Huckleberry Land. In 1935, the first Newfoundlands joined the family, but it was not until 1940 that they bought breeding stock which became their kennels's foundation. Canadian Ch. Laurel Brae's Gale, in whelp to her sire, Ch. Shelton Sea Driver, was imported to Oquaga from M. Emmet of Laurel Brae Kennels, Islington, Ontario, Canada. She had been shown 17 times and was never defeated!
"People thought we were crazy spending $200 for a dog. That was equal to about 6 weeks of my salary! But we wanted only the best," Cliff will tell you, laughing.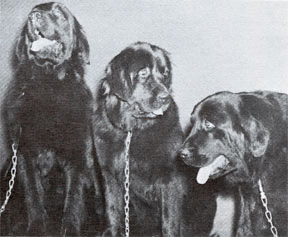 In December 1941, Shelton King of V., grandson of English Ch. Baron, was purchased from R.D. Oliver of St. Mary's, Ontano, Canada. From then on Oquaga Kennels bred mostly within its own stock. Can Ch. Laurel Brae's Gale produced only one puppy, Oquaga's Black Beauty, who was bred to Shelton King of V. and produced many fine Newfs, among them Oquaga's Queen Mary, Oquaga's Queeh Bess, Oquaga's Ocean Gale, Oquaga's Lifeguard, Oqua'ga's Ocean Spray, and Oquaga's Queen Elizabeth. Many of these dogs went on to play an important part in the history of modern Newfoundland breeding.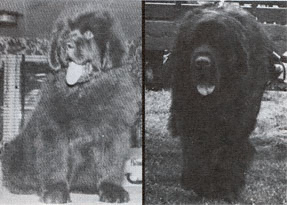 Many Newfoundland breeders today will recognize names like Ch. Dryad's Sea Rover, or Dryad's Goliath of Gath, Ch. Perivale's Sea Ranger, or Int. Ch. Newton, to name a few. A look at the ancestry of these fine Newfs will show their Oquaga heritage. Ch. Perivale's Sea Ranger's grandam was Oquaga's Princess Tenna, a daughter of Oquaga's Queen Mary. Ch. Bonnavista, the dam of many Little Bear greats of old, had Oquaga's Queen Mary as a granddam. Ch. Topsail's Capt. Cook's dam was Oquaga's Queen Bess. This outstanding Canadian dog was the sire of Topsail's Captain Bob Bartlett, (who in turn sired Int. Ch. Newton) and Topsail's Leif Erickson. Leif Erickson, bred to Oquaga's Sea Mist (a grand-daughter of Oquaga's Ocean Gale), produced Dryad's Spinnaker, the dam of Dryad's Goliath of Gath.
One could go on and on ... , but probably none would surpass the widely recognized influence of Ch. Dryad's Sea Rover, who appears in so many of our pedigrees. His sire was Oquaga's Sea Driver II. Certainly one can't help but be awed at Cliff and Theodora's knowledge of the breed, and also the detailed records kept on every Newf bred and sold at Oquaga Kennel. Logs were kept on head measurements, weights, heights, and girths at all ages.
One need only ask, "What did your puppies weigh at 3 months?", and the answer can be found in the logs kept over the 35-year period. Or, are you wondering about your puppy's head at a given age? Again, the answer can be found in the records. The Hartz's greatest interest was in the length of the muzzle compared to the rest of the head. "We found that the best Newf heads we had were 37% muzzle and 63% from bridge to occipital bone." So much useful information is recorded. One can only hope that it will continue to be used for the breed's improvement.
Mr. and Mrs. Hartz feel that their careful records allowed them to do a lot of successful linebreeding and inbreeding. They often bred mother to son and father to daughter to get the results they desired. One has the impression that nothing was done hastily or impulsively. Each breeding was done to produce a Newf a little better than either of its parents.
In 1948 tragedy struck Oquaga Kennels. A rare type of distemper hit the show dog world. First, only one of the Oquaga Newfs came down with it, but before it was over 22 of their 24 Newfs were gone. Oquaga's Lifeguard was among them. Yet, the Hartzes remember how kind other Newf people were, and how everyone rallied to support them. Offers of Newfs were many, and they finally chose some closest to their original pedigree line from Mrs. Powers of Waseeka Kennel and Mrs. Godsel of Coastwise Kennel.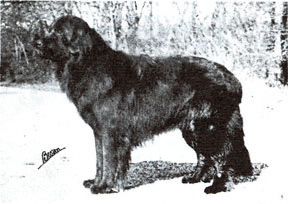 The Hartzes have done a limited amount of showing; usually they have sold their Newfs for others to show successfully. Ch. Oquaga's Sea Pirate, owned by Elinor Ayres, Sr. was a multiple Best of Breed winner and group placer in the early 1950's. Canadian Ch. Oquaga's Queen Bess was campaigned successfully in Canada and the USA.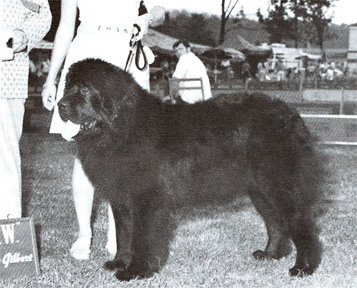 Ch. Oquaga's Molly Nine Mile, owned by Barton and Anne Williams was the first champion Newfoundland bitch in Minnesota and was the foundation bitch for Nine Mile Newfoundlands.
Ch. Oquaga's Sea Ranger was the last Oquaga-bred champion and one the Hartzes had kept. He completed his championship in 9 shows in 1972. His promising career, both in the ring and at stud, was cut short by his untimely death in 1974.
Oquaga puppies have gone all over the world and have influenced the breed wherever they have gone. Oquaga Newfs have gone to 30 different states in the USA as well as to Canada, the West Indies and Europe.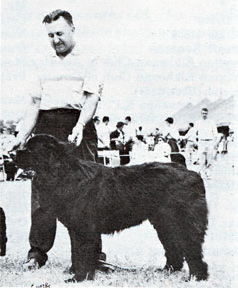 Oquaga Newfs have always been guaranteed for their good dispoiiitions. However, there was one complaint which the Hartzes could not satisfy. A lady from Illinois purchased an Oquaga pup. One year later she called to complain that the dog was too loving and probably would not harm even a prowler!
For their long and faithful service to the Newfoundland breed Theodora and Clifford Hartz have been made honorary life members of the Newfoundland Club of America.