Nashau-Auke: The Thibault Family
Reprinted from NewfTide Vol. 6 No. 3 Fall/Winter 1975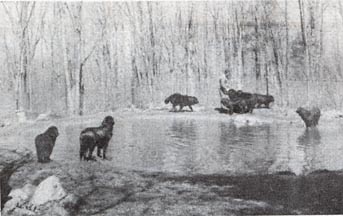 Nashau-Auke is truly a family affair with the Thibaults. Jane says that it would be impossible to care for the 20+ Newfoundlands were it not for the dedication of her husband and sons.
It now seems a lifetime ago that the Thibaults went to the Hartford dog show trying to make up their minds whether to buy a black Great Dane or a Great Pyrenees. As fate would have it they encountered their first Newfy - you've guessed the rest. Three weeks later they were the proud owners of their own Newfoundland, Little Bear's Cinderella. "Cindy".
The Thibaults became interested in obedience work and showed Cindy to her C.D. By this time they had been bit by the show bug and with much encouragement decided to breed Cindy and keep a show pup out of her litter. It took two breedings to discover that she was only receptive on her 20th day.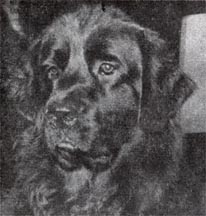 At this point it seemed provident to acquire a stud of their own so they bought Little Bear's Jauntless "Teddy". This was to be the start of Nashau-Auke Kennels.
To round out their breeding program Jane acquired two other bitches on breeding terms. Both were very linebred but from two completely different lines. One was the 2 1/2 year old Little Bear's Cutty Hunk (Ch. Little Bear's Hard Tack X Ch. Little Bear's Windjammer). The other one 7-month-old puppy, Shipshape's Nana of Nashau-Auke (Edenglen's Sea Clipper X Shipshape's Sea Urchin).
Equally important to the beginning of Nashu-Auke was Wilma Lister's Ch. Shipshape's Cutty Sark, which Jane was to use at stud certainly as much as her own Teddy. This cross between Little Bear and Shipshape was to prove a stroke of near genius and make Nashau-Auke one of the finest Kennels in the country.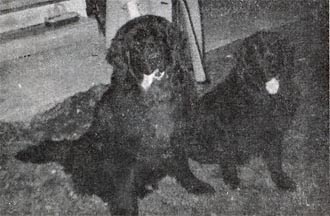 When bred to Cutty Sark, Ch. Little Bear's Cutty Hunk was to produce four champions - Jane's dog Tonda, her grand old lady Keema and Tamiroka's foundation bitch Tasha. But her greatest gift to Nashau-Auke was her daughter by Teddy, Ch. Koki Winota (the name means Little Women).
"Winnie", the runt of the litter was to become a top producer and perhaps Jane's finest producer of bitches. Several of her champion daughters became foundation stock for various kennels; Mamacoke (Mamie) for Benham Knoll, Nashawena (Shena) for Far Hills and Revelation (Sardis) for Bear Hollow. Another daughter Bonnie Cox Can. Am. Ch. Lady Penelope de NashauAuke CDT Indigo's Fritzacker, Winnie produced 3 very fine bitches tor Jane - all champions - Minowe Koki, Owassa (the name means little bear) & Lolua, the winners bitch at the 1973 National Specialty. Winnie is also the dam of the group placing Ch. Techmusah de NashauAuke, her son by Ch. Kinunka de Nashau-Auke, and his brother Can. BIS winner, Can. Ch. Bwanken Chikbee de Nashu-Auke.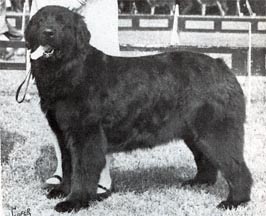 Ch. Shipshape's Nana was to produce amongst the Kennels finest dogs, both at stud and in the ring. A breeding to Cutty Sark was to produce the beautiful Ch. Admiral Ajax and Jane's first homebred champion Ch. Kinunka de Nashau-Auke "Nukie", which was to become a top producer and sire of 12 champions. Nana's son by Teddy, Am. Can. Ch. Koki de Nashau-Auke is considered· by the Thibaults to be their most influential homebred dog. To the family Koki is known and loved as "DumDum" and definitely top dog of Nashau-Auke.
Nana is also the dam of Ch. Canochee de Nashau-Auke "Chinook", a son of Ch. Indigos Fritzacker and one of the few Newfoundlands ever to win 2 BIS and a National Specialty. Unfortunately for us Chinook is now retired from the show ring.
Two of the Kennel's young dogs are just coming into their own as studs, one is Da Kody de Nashau-Auke, a son of Ch. Kilyka's Black Bart. The other, grandson of Cindy's, the incredibly typey Ch. Nakaya de NashauAuke, a Cutty Sark son. In the show ring look for their outstanding gray, Ch. Nomex de Nashau-Auke.
The Thibaults have just moved to a new house where there will be 'more room for all and an acre pond for water training - a perfect setting for Nashau-Auke - "The land between two waters".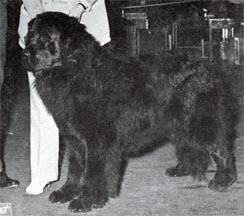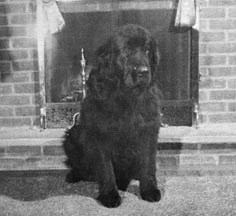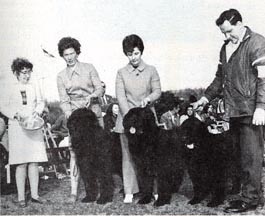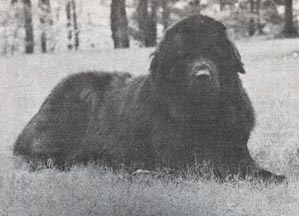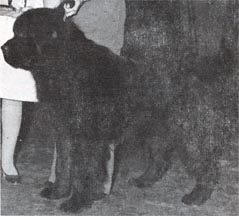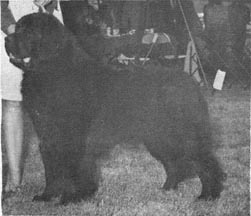 An Interview with Jane Thibault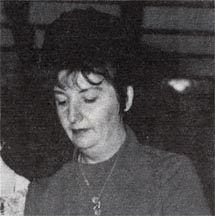 How do you choose breeding stock?
I go first on temperament 2nd on type and 3rd on movement.
Which faults do you dislike most?
To me bad temperament is the cardinal fault. Followed by light eyes and then no bone. I find that too many people are breeding for largeness and are so size and hip conscious that we're loosing temperament, type and bone.
What is your feeling about color?
I don't like it even though I own two gray champions. I feel that we will ruin our breed experimenting with color. Ex: Irish spotting and Gray & White Landseers.
Which of your dogs has produced the most champions?
Ch. Koki Winota de Nashau-Auke was a top producing dam and Am. Can. Ch. Kinunka de NashauAuke was a top producing sire. Their union produced 6 American Champions, 1 Mex. Champion, 2 Canadian Champions and 1 Am. Can. Champion.