Halirock Kennels - Roger & Joan Foster
Reprinted from NewfTide Vol. 7 No. 2 Summer 1976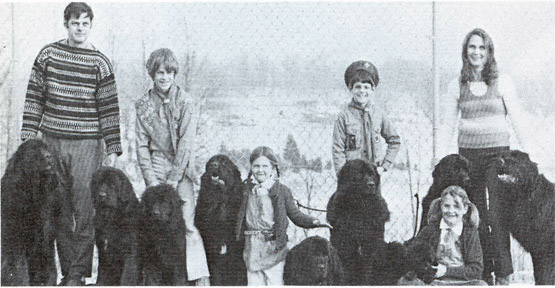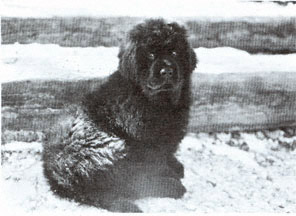 While driving through the Maine Countryside, Joan and Roger Foster found themselves behind a station wagon with a huge black tail hanging out of the window. Intrigued they followed the car into a driveway and watched as five children streamed out followed by an enormous black Newfoundland. The dog lumbered over to their car and stuck his head in their window. It was love!
Soon after that they were the proud owners of a puppy from Little Bear Kennels. Bitten by the show bug they took Moose off to his first show. But at the show even their novice eyes were opened to the fact that for all his virtues Moose was no show dog. They decided that if they were going to show they wanted the best dog that they could find. This time they bought a seven month old puppy bitch, the future champion Little Bear's Chula Vista.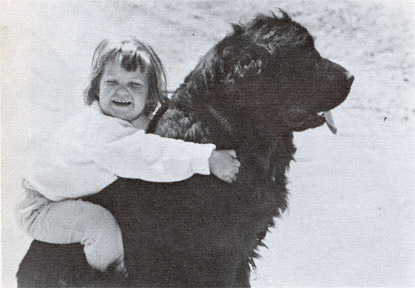 Two years later the Fosters bought a lovely puppy bitch from Harbour Beem. Unfortunately she did not mature as they had hoped so they gave her to friends and picked a puppy from Vista's first litter by Can. Ch. Dryad's Bounty. This puppy was to become their first homebred champion, Ch. Halirock's Avalanche, C.D.
Vista's first litter coincided with the birth of the Foster's fourth child. On the day of her birth they choose their kennel name: Halle - Lili - Roger – Chuck became Halirock. At this time they also decided to name each litter alphabetically.
Roger was transferred to a military base in Southern California. This move was to shape the future of Halirock for it was there that they were to do some of their finest breeding. The dog that was to be so meaningful to their breeding program was Fran & Bob Dibble's great stud Ch. Edenglen's Beau Geste.
A union between Beau and Vista, the B litter, was to produce two outstanding Newfoundlands, their own Am. Can. Ch. Halirock's Boulder, which was to win BOW at the '71 National Specialty, and the typey Ch. Halirock's Britannia which was to produce Britannia Kennels fine young dog Ch. Britannia's Union Jack.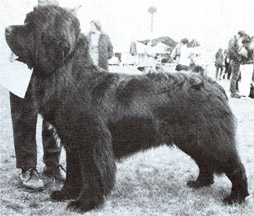 When the Foster's learned that they were being sent back to Vermont they once again set about looking for a second bitch. Through Kitty Drury they were fortunate enough to obtain the two year old Dryad's Anthony's Penelope. A daughter of Dryad's Naval Price and Dryad's Candy Dutchess. Penny was undoubtedly one of the greatest Newfoundland bitches. A beautiful show dog with that special "look-at-me" quality. She was to prove equally fine as a brood bitch. Exceptionally dominant both in soundness and type, her-descendants possess that unmistakable "Penny" look.
The C litter, a breeding between Penny and Beau was to produce an exceptional group of bitches, Joan & Roger's Ch. Halirock's Come By Chance and her champion sisters Chatty Cathy, Christmas Candy and Cricket.
In all Penny was to produce 7 American and 3 Canadian champions, many of them OFA certified.
Some time later the Fosters had the opportunity to purchase Penny's litter sister Franco Cassandra. An OFA champion, Cassie was to produce 4 OFA champions, Halirock's Fjord Chinook, Halirock's Seamount Hannah and two daughters by Ch. Edenglen's Oscar, Halirock's Olympia & Oceana.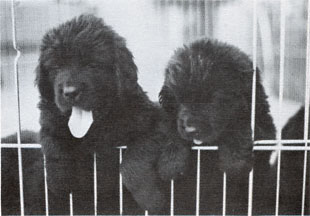 Back in Vermont the Fosters set about expanding their kennel and setting their priorities. An active family, they realized that first and foremost they wanted their dogs to be active and energetic pets, enthusiastic companions which were able to take part in their numerous outdoor activities. Soundness was to become a prime importance. They found that by producing no more than three litters a year they were able to evaluate their program and maintain both the soundness and type that they had.
Within the past few years they have purchased two OFA males, Can. Ch. Ponaganset Palaemon, a Cutty Sark son and Ch. Timhurst Black Oliver which they are currently using at stud, but despite the fact they have five males of their own they have frequently gone to outside studs to add new dimensions to their breeding program.
Despite the fact that Halirock has produced some very fine males there is no doubt that it is for the outstanding quality of their bitches that they are best known.
Today Penny, Cassie and Vista are gone but they leave behind them a rich heritage for with their descendants the future of Halirock lies secure.
An Interview with Joan Foster
You are probably more OFA conscious than most kennels. How did this come about?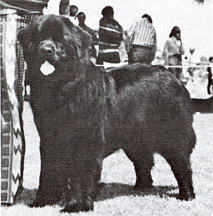 We were aware that several of our bitches were exceptionally sound and also that there was wide discrepancy in what others felt to be sound movement. We also became aware of the occasional Newf that was a cripple from hip dysplasia. We were aware that reading of hip x-rays was not an absolute but depends on an interpretation and that the only way to be able to compare interpretations of hip x-rays was by using an organization such as OFA. We are convinced that a well trained eye watching a dog under a variety of conditions and particularly after heavy exercise can pick for soundness as well as an x-ray. But Newfs have heavy coats and many dog fanciers have not had the extensive opportunity to train their eyes. OFA interpretation of x-rays at least provides a uniform standard. While hip dysplasia is by far the most serious crippling structural defect in Newfs, the hip is only one joint and x-rays only show the hip joint and not the whole dog. We feel that the hip status is like eye color, head, bites etc. "It is a factor that must be taken into consideration when breeding. You don't breed major faults to major faults. If you have a bitch that does not x-ray perfect but is reasonable then you breed her to an OFA male. Ideally, you want both sire and dam cleared. We have reached a point in our breeding that we can breed with both sire and dam free and in some cases we have both grandparents free as well.
What is your feeling about color?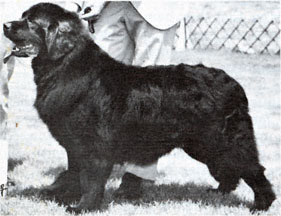 As to color ... we generally prefer the blacks as almost invariably browns and grays have a light eye. We feel that deliberately attempting to breed for solid colors other than black is a mistake. There are just too many more important qualities to take into account in a breeding program than to try and breed unique colors. A good Landseer marking on a good Newf is truly handsome. We have a young male that has Landseer recessive genes and may in the future try for a good Landseer breeding but only if the breeding would satisfy us a good black breeding.
Do you feel that breeding stock are necessarily showable?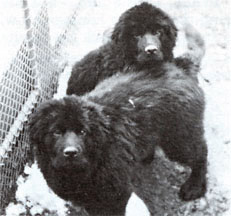 We feel that our breeding stock should be showable. Not that they necessarily have to be shown but they should be of a quality that can be shown to championship.
How do you pick puppies?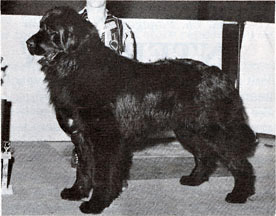 Picking puppies at 6 to 7 weeks depends on what the person you are picking the puppy for wants most. We find that puppies vary in personality, conformation and energy levels. Some people simply want the biggest and best head. That is the easiest choice. Some people want a puppy most likely to clear OF A at two years. That is the hardest pick. We pick the puppy most likely to be the soundest by watching the puppies playing in our woods over a period of time. The puppy that leaps the fallen trees, seems the most coordinated, stands and leaps on its hind legs at the gate is most likely to be the one that at two years will clear OFA.
Personality varies tremendously. Some puppies are quiet and some are a lot more aggressive and outgoing. We try to fit the puppy with the proper family. If someone wants to be guaranteed an OFA nearly perfect Newfoundland, they would do better to buy an older dog. An outstanding Newfoundland is hard to breed and it is harder still to predict the ultimate outcome of a puppy. When we pick for ourselves at 6 to 8 weeks we re-pick at 3 months, 6 months and 12 months. We only keep as future breeding stock the puppy who at maturity has as much promise as he did as a puppy. Movement is at the top of our list or priorities but only in addition to confirmation.
Which virtues do you prize the most?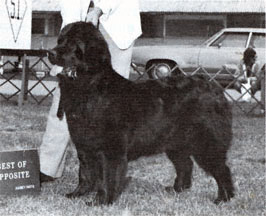 We like the enthusiasm and energy in our Newfoundlands. A Newfoundland that can mountain climb with you, cross country ski or horseback ride with you is a joy to have. The fault I find most heart breaking and we have had our share, are the Newfoundlands that have severe enough hip problems that they have to be left behind because they can not keep up with family activities.
Would you comment on the Newfoundland temperament?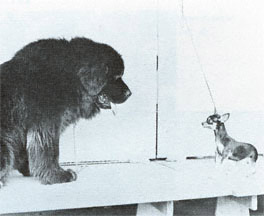 There is no question that the Newf temperament is a unique quality. The instinctive love these dogs have for people and especially children makes them unique. Any kind of roughness towards people is not to be tolerated in any form and that begins when the Newf is a puppy. An undisciplined adult or half grown puppy who muddies or knocks down a guest in playful enthusiasm make no friends for the breed. A lot of time has been spent socializing and obedience training all of the puppies that we have kept.