Edenglen: Willis & Helena M. Linn
Reprinted from NewfTide Vol. 5 No. 1 Spring 1975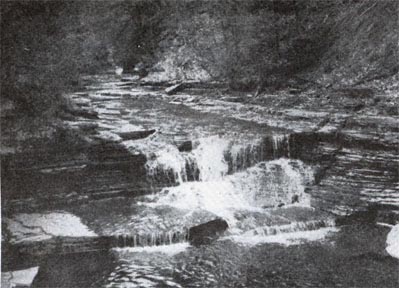 Bill and Helena Linn's Edenglen is a private world situated on the shores of Lake Seneca. The only noise to be heard is the lapping of the waves and the barking of their dogs. Here streams run through fields and woods, the majestic waterfall cascades into a crystal pool below and here the descendants of Nancy and Christine of Glenora roam free through this wonderland, swimming in the lakes and fishing in the streams.
It all started some fifteen years ago when the Linns bought two puppies from Kitty Drury's Dryad Kennels. The two bitches were out of a litter by Ch. Dryad's Harborlight Lookout and the Dutch import Beatrijis v. Zeepaardje. These puppies became the Champions Dryad's Christine and Nancy of Glenora, two of the greatest producing bitches in Newfoundland history and the cornerstone upon which Edenglen is founded.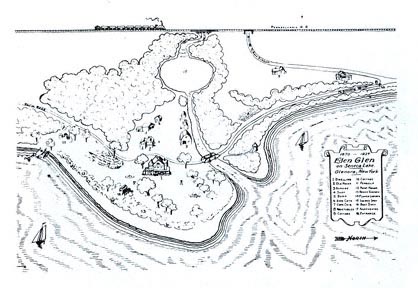 Of the two Chrissy was in some ways more important to Edenglen itself, for most of Helena's breeding stock is descended from her. She is the mother of their top producing stud Tucker and their young Christopher Robin (her last puppy). She was also the mother of perhaps Edenglen's most colorful member, Jenny Rietell, the big gray bitch with the white tipped tail and nose, who could hold her own with the best fishermen. Chrissy's grandchildren Eleanor, Libby and Coda are amongst Helena's finest brood bitches.
In the show ring Chrissy's greatest get was undoubtedly the Freeland's two time national specialty winner, Ch. Edenglen's Banner, her son by Ch. Dryad's Sea Rover. A large, typey dog, Banner was to become an important stud with the ability to throw his type.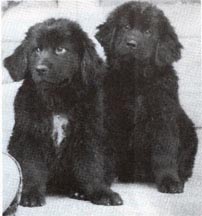 Through her son Edenglen's Tucker, Chrissy can count amongst her grandchildren: Ch. Rammada's Prince, Ch. Edenglen's Randy of Newton-Ark, Ch. Indigo's Charlie Brown, Ch. Edenglen's Lady Rebecca (herself a top producer) and the O'Neill's incredibly typey Ch. Indigo's Onyx. Chrissy is also the grandmother of Ch. Edenglen's Heidi . Bear (who won the group at twelve months of age), the daughter of Jenny Rietell. Today Chrissy would be proud of her three BIS great-grandchildren, Ch. Semy Ye Gad's Charlie, Ch. Neshuma of Newton-Ark and Ch. Ole Mole's Lucas.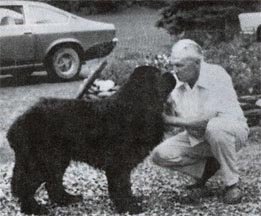 Ch. Dryad's Nancy of Glenora would have a place in Newfoundland history if all she had ever done was to produce Ch. Edenglen's Beau Geste. Beau, a top winning show dog, is the father of twenty five AKC champions, amongst them the great Ch. Dryad's Tambaram of Cayuga and Ch. Drayd's George. George was to play an important part in Helena's breeding program, producing the national specialty winner Ch. Edenglen's Falstaff, Ch. Edenglen's Sholem Aleichem, the above mentioned Heidi Bear and the Dibble's Ch. Edenglen's Oscar, probably the finest Edenglen dog being shown at present.
It is interested to note that Beau came from a litter by Ch. Dryad's Sea Rover which included Edenglen's Merry Mischief, the mother of Hilvig's Kennels foundation bitch, the beautiful Ch. Hilvig's Corsage, and Ch. Edenglen's Sambo of Windy Hill, the father of Seafaring Gal and Pride n' Joy of Windy Hill, two champion bitches which were the foundation of Bandom Kennels. Also in this litter was the Linn's huge gray dog Boom, who was killed with just one point needed to complete his championship.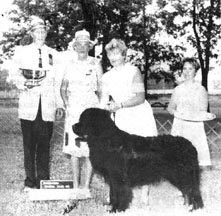 A repeat of this breeding between Nancy and Rover was to produce Isabel Kurth's Ch. Edenglen's Sovereign of the Sea which was to sire three of Indigo Kennels finest dogs, the champions Point Judith, Bozo the Clown and their national specialty winner Ch. Canoochee de Nashau-Auke.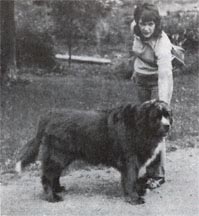 To round out her breeding program Helena looked for an outcross to breed to her stock. She bought a young bitch from Newfoundland's Harbor Beem Kennels, Harbor Beem Ethie. Ethie was to produce Ch. Edenglen's Ursa Minor, Ch. Euenglen's Sir Francis Drake and Ronni Farkas' Ch. Edenglen's Lady Rebecca, the mother of four group placers. One of them a two time BIS winner.
These three bitches were to be the only Newfoundlands that the Linn's would buy until years later they acquired a daughter of Bea Geste's which they named Sally Mole after her breeder. Sally was in fact descended from both Nancy and Chrissy.
Edenglen is unlike most other kennels in that they do very little showing. Therefore their truly great show dogs have been owned by other people. Perhaps this accounts for the fact that out of 99 breeders listed in the pedigree book 56 have Edenglen stock appearing in their pedigrees within the last three generations. They include; Alta View; Bandom, Beaupre, Benham Knoll, Bethward, Britannia, Castaway, Companionway, Dryad, Ebonewf, Ganshalom, Good Shephard, Halirock, Hilvig, Peppertree, Riptide, Seamount, Seaward, Semy, Skipjack, Seasaga, Shipshape, Sojowase, Tranquilus, Wanaka and Zephyrus.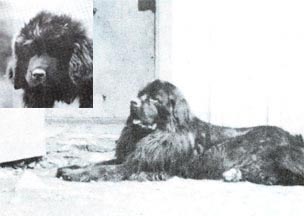 When you ask Bill Linn how he has managed year after year to produce so many fine dogs, he says, "You'll have to ask Helena, she's the girl that's made Edenglen Kennels!" And when you ask Helena what her secret is she just smiles.
Bea remained interested in the Newfoundland even though she had retired from dog show judging since 1970. Only a year ago she bought a Newfie for a friend and she loved to have them come visiting so she could have a Newfie head in her lap again. We shall all miss this great lady.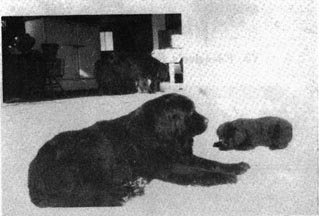 55 Champions Are Produced by Kennel By Walter R. Fletcher New York Times 9/2/76
Edenglen Revistsed by Helena Linn AKC Gazette January 1999
Helena Linn - Obituary Septer 7, 2001